PHUPIMAAN : The Embrace of the Mountain

Alami news : He has been joined the tourism and gives services in Krabi Province for over 30 years. Mr. Theerasak Khanantai or known as Kamnan Rab, head of a group village, at Ao-Nang, Krabi; a creator for business started from zero and became to be the owner of luxurious hotel for hundred million Bath; many services in term of tourism for several places.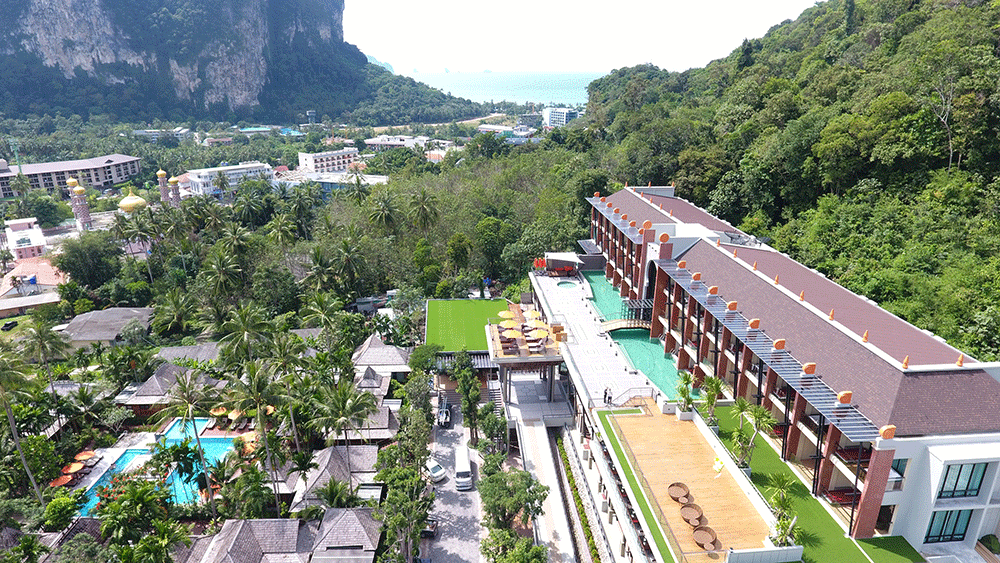 Phupimaan : the embrace of the Moutain
Mr.Theerasak Khannantai stated his operation process by saying that Phupimaan Hotel is Halal 100 percent, which means everything in this Hotel is all Halal including accommodation, food as well as staffs who give services are Muslim, and they can pray on a daily basis.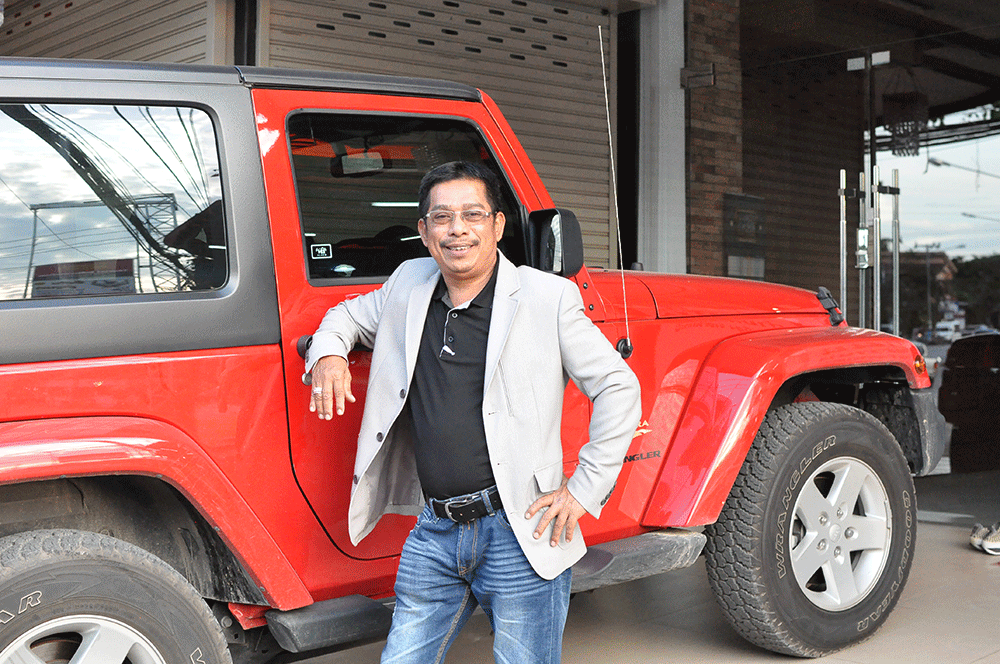 Phupimaan Resort & Spa provides services for international class, and customers who use his services are worldwide. For customers who come to use his service, they will meet the staffs who welcome them friendly with a smiling face. He trains his staff to give services in a positive way, and it does not matter that they work in which department, but they all must serve the customers in a good way. He strongly agrees that customers will be satisfied when they stay at his hotel.
Phupimaan Hotel has 2 phases for accommodation on an area of six acres. The first phase has 23 rooms started from 4,000-6,000 Bath. Moreover, there are villas in two styles; which is one bedroom and two bedrooms. The first phase opened in 2010. However, the second phase has 53 rooms with a total of 76 rooms.
The main highlight of the second phase is view. The customers may see view of Ao-Nang clearly and the other side, they can see the Krabi City. If customers come to stay at Phupimaan Hotel, they will be impressive because the scenery is very beautiful. They must pick up the phone to take a photo along the way inside the hotel.
In addition of view and services, another highlight is landscaping style. Phupimaan Hotel always cares for this point by adding trees around the hotel. When you walk out of the room, you will see the beautiful scenery of Ao-Nang, and it is the only place that you may see the Ao-Nang's view clearly as well as experience with natural environment.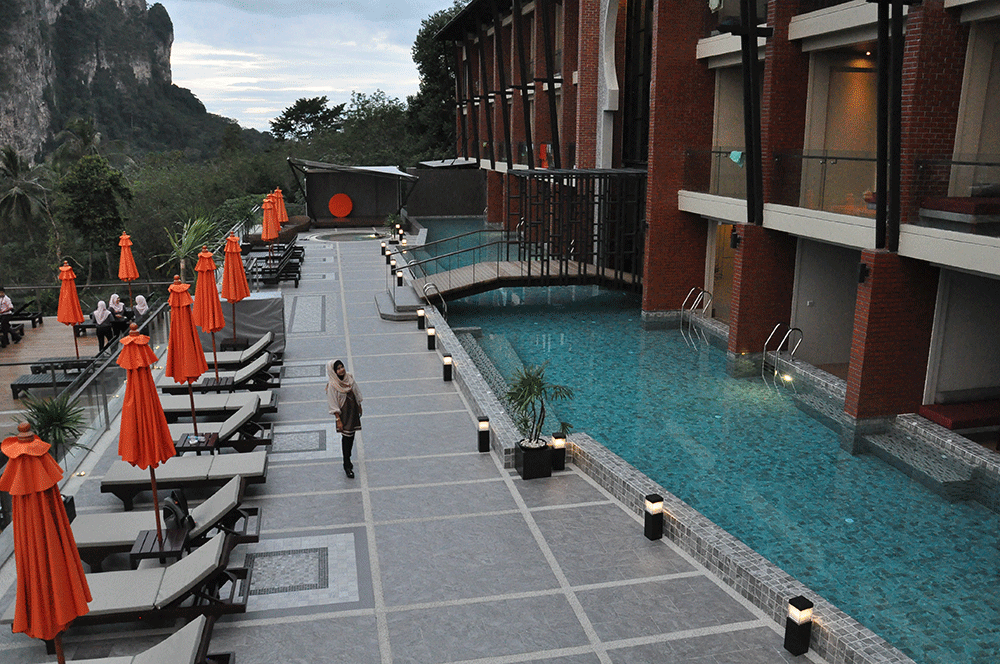 Moreover, Phupimarn Hotelalso adds another facility to serve the customers. For those who want to do a spa, we have the VIP massage here. We have a steam room, sauna, gym, and a Kid's Club for children's activities. We have two swimming pools, and on top of a swimming pool for the second phase has a length of 50 Meters.


When they get up from the swimming pool, they will see view 180 degree, and they will be impressive looking at the three mountains in different colors of different periods. When you come here, you will see and experience the view closely.
"Phupimaan : the embrace of the mountain as our concept. This statement is not beyond reality. So, I want you as our customers come to experience the atmosphere of Ao-Nang, which is another dimension you will be more impressive".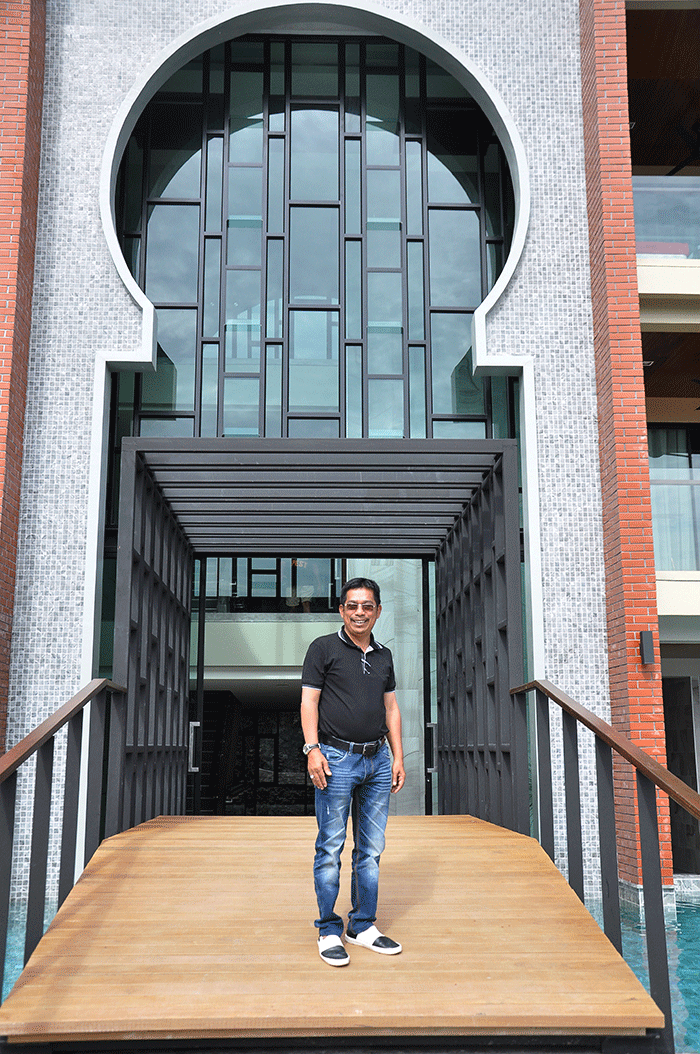 For tea corner of the hotel, we prepare a place to drink tea at the beautiful scenery that you may see view conveniently, and we separate from the restaurants. We bring a high level of tea from around the world and put them in this place. If you are interested tasting tea from around the world in Krabi, you must visit the Phupimaan Hotel.
Moreover, you may also drink tea at another place of the hotel; which is the top of the hotel. So, you will experience the whole view of Ao-Nang. It is the main highlight of this hotel. It is also Halal Street and Halal tourism.
"The overview of Ao-Nang is well-known for tourists around the world; however, we have to think how we can do in order to preserve the tourist place in a good manner by not destroying the nature. Moreover, we must also think how we can make the tourists feel convenient when they come to visit our place in term of safety and let them come to visit us again in the future as the slogan of the province stated" Visiting Krabi one time is not enough"….
" We have a beautiful mosque which is the sign and identity for the tourists who come to visit us".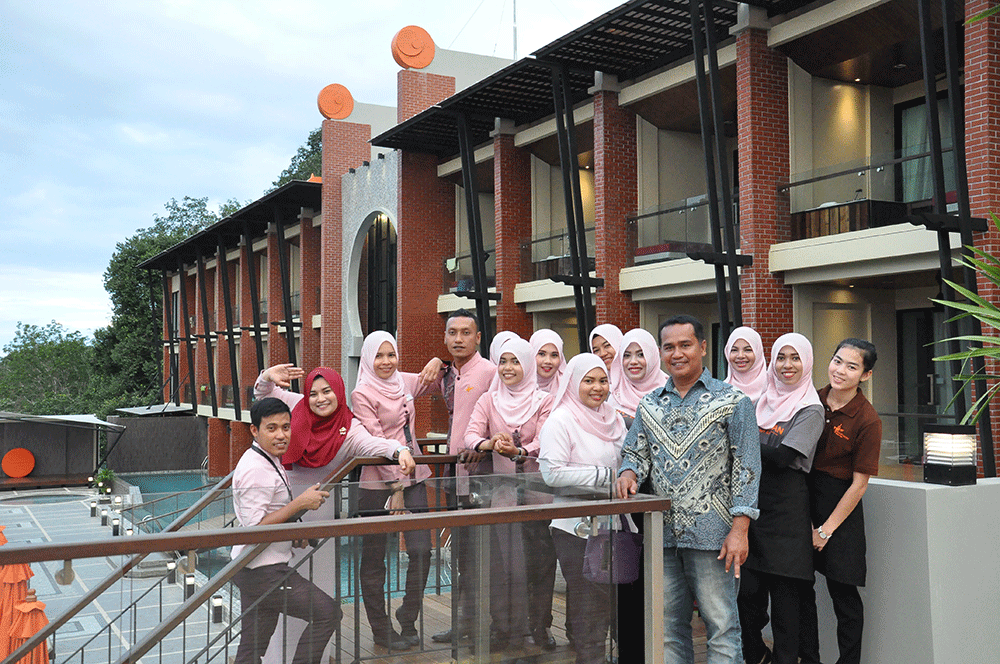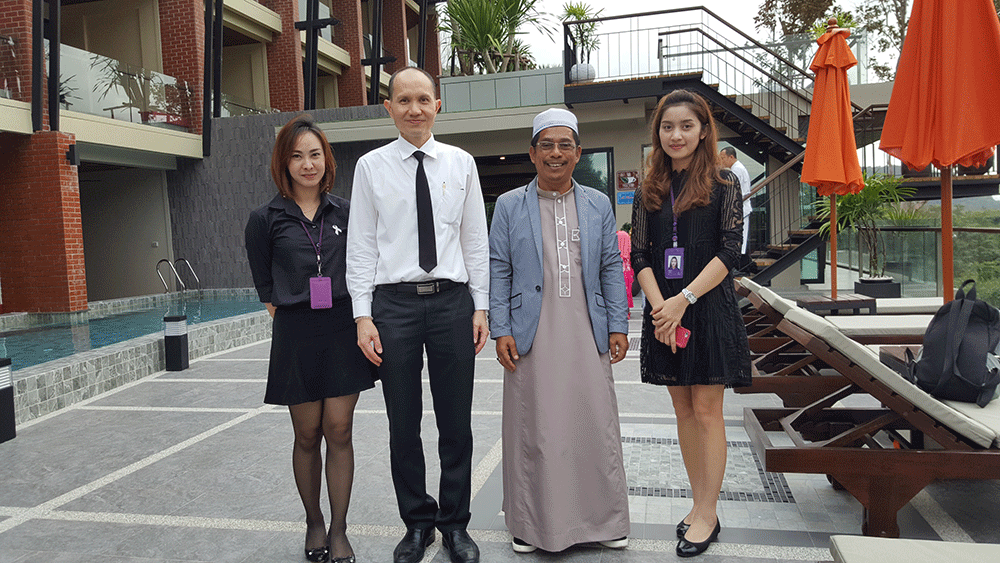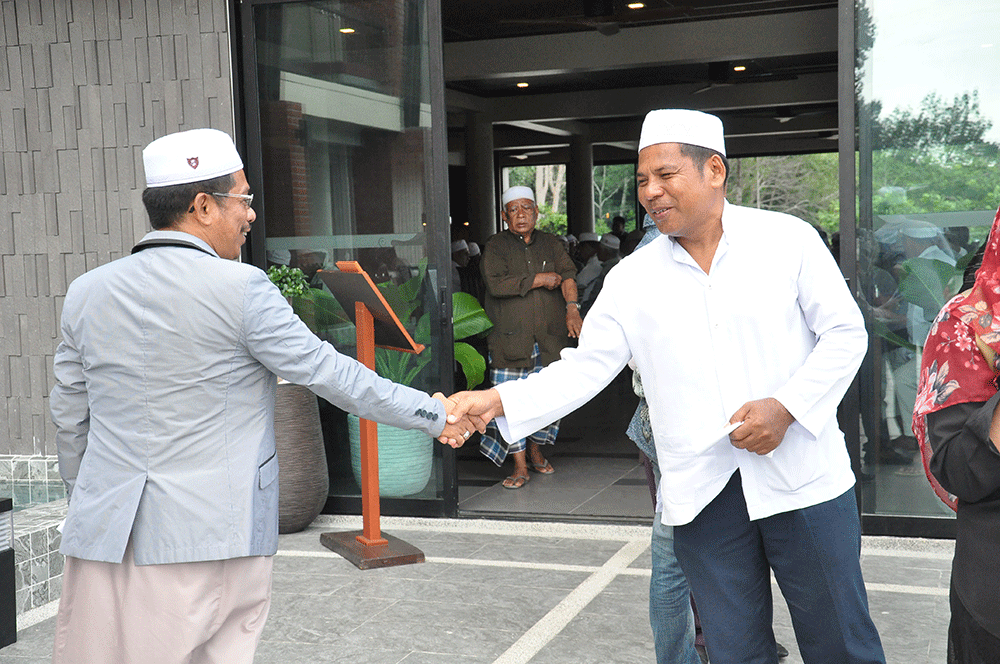 In order to support a Halal tourism as well as increasing economy of community, we are ready to open "Halal Street Project" in front of Ao-Nang Mosque. We will set stores for shopping place in both sides with the length of about 300 Meters, and it will open on Friday, Saturday, and Sunday. The shopping place will have food and souvenirs, and the food must be Halal 100 Percent.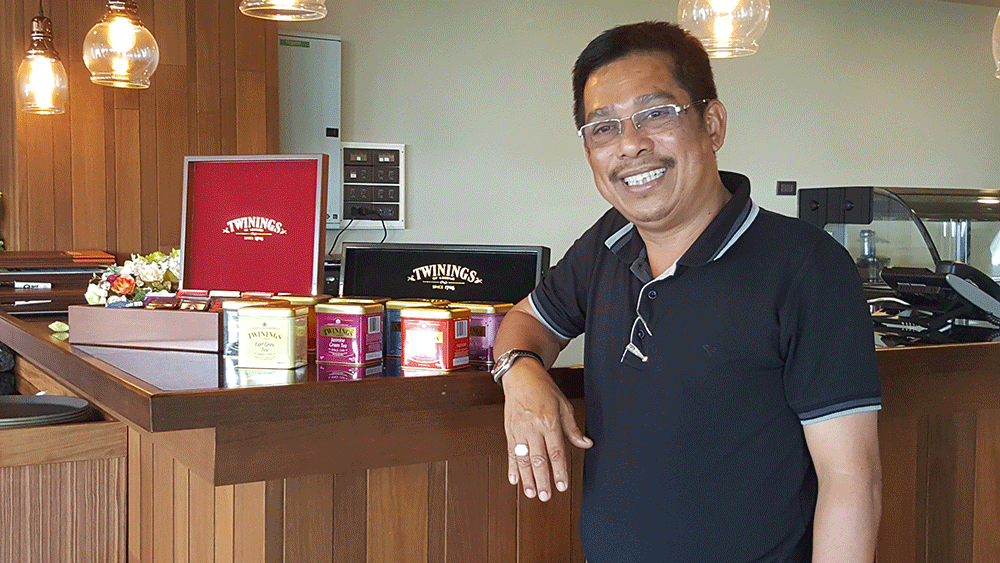 Mr.Thirasak stated confidently that "Ao-Nang Halal Street will be a shopping place, and it will be one of the tourist attractions that they must visit when they come to Krabi".